One staple food item that almost every Moroccan family has for break fast, is the hearty meat and lentil soup called the Harira.


The Harira Recipe
A Moroccan Soup Served at Sundown to Break the Ramadan Fast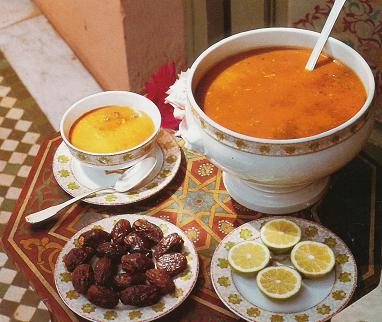 Ingredients:
1/3 cup Flour
1/2 cup Chick peas
1/2 lb Lean lamb or beef diced
2 Large onions, chopped
1/4 ts Saffron
2 tb Paprika
1 Soup bones
1 tb Butter
2 tb Salt
1/2 ts Pepper
1/2 cup Dried broad beans
1 1/2 lb Tomatoes
1 Bunch parsley
1 Bunch fresh coriander
1 tb Butter
1/3 cup Rice
1 Lemon
1/2 cup Lentils
Method:
1) Soak overnight 1/3 cup flour in 1 cup water; 1/2 c lentils in water to cover. Brown in lightly oil deep pan lamb, onions, saffron and paprika (increase or decrease according to taste).
2) Add 6 cups of water, soup bones, butter, salt, pepper, chick peas with skins popped off and discarded, and the dried broad beans which have been washed and cleaned. Simmer, covered, for 2 hours or more.
3) 20 mins before serving, pour through a food blender into the soup pan (or blend with one cup of water) the tomatoes, parsley, coriander & the flour and water paste. Add 3 cups of water, and when it returns to boil, add the vermicelli.
4) When the vermicelli is cooked, add 1 Tb butter and lemon juice (or serve a wedge of lemon with each bowl to be squeezed on the soup). The soup should be smooth and slightly thick in consistency; add water or flour to thicken and adjust, if needed.
Saya yang tengah kegilaan untuk makan harira air tangan orang arab. Walaupun orang melayu cuba masak tapi rasa dia tetap tak sama macam orang arab yang masak...emm...